What's happening, what's next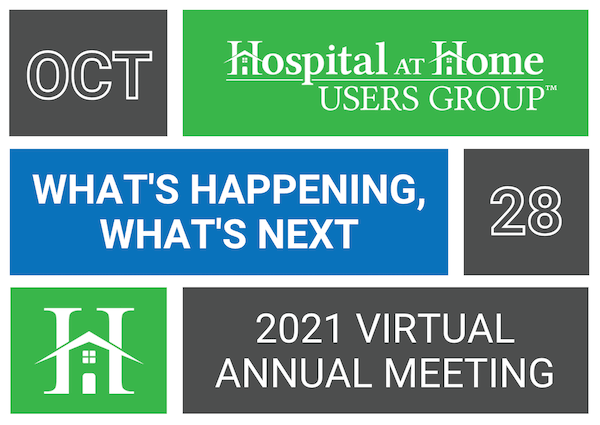 Registration is NOW OPEN for the Hospital at Home Users Group™ 2021 Virtual Annual Meeting, What's Happening, What's Next, featuring:
A keynote by Lee A. Fleisher, MD, Chief Medical Officer of the Centers for Medicare & Medicaid Services
Presentations from experts in delivering high quality acute care in older people's homes
A poster session, innovation presentations, awards, photo contest results, and much more!
View the updated Meeting Agenda.
Running from 11am-5pm ET on Thursday, October 28, our Annual Meeting is a pre-conference session of  the American Academy of Home Care Medicine (AAHCM), which will take place October 29-30.
The individual rate is $125/person and the group rate (five or more attendees from the same institution) is $100/person.  Please note:  Group registrations will not be accepted after October 21.  Individual registrations can be made up until the Annual Meeting opens.
Visit this link and then click 'Register Now'
Enter your contact information
Select the appropriate Member or Non-Member Category if you are attending the larger AAHCM Meeting.  If not, select 'I will only be attending a paid pre-conference session'
Tick the box under '2021 Hospital at Home Users Group Annual Meeting'
Select a donation and payment option (credit card, check, or PayPal)
Click 'Submit Registration' and enter your payment information